Moda ve stil yarışında her yeni trend ve oluşum hakkında Vogue ile bir adım öndeyiz.
Bu sefer konumuz dumanlı göz makyajı kışın ve gecelerin vazgeçilmezi buhusu dumanlı gözler artık Giorgio Armani sayesinde yeniden yorumlanıyor.
In the new trend and composition of fashion and style race, we are one step ahead with Vogue.
This time the topic is the smoky eye makeup which indispensable in the winter and nights.
Smoky eyes now reinterpreted thanks to Giorgio Armani !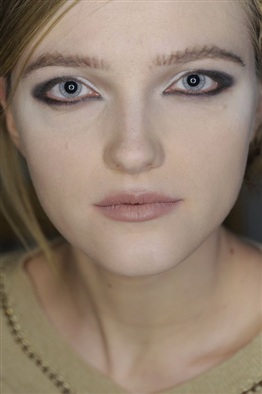 Nasıl mı ?
Göz pınarı ve kirpik diplerinin yarısına kadar lame far, ay şeklinde ince hat olarak uygulanıyor. Daha sonra mürdüm far ile keskin ve dağıtılmamış bir geçişle lame farın gerisinden gözün bittiği yere kadar tamamlanıyor. Alt kirpik diplerine de ince mürdüm göz kalemi sürülerek gözün çevresi sabitleniyor.
Kaşlar disiplinsiz ve kirpikler ince maskarayla özgür. Natürel tonda allık ve ruj dumanı yarım ay tüten gözleri tamamlıyor.
How?
Shadow implemented as a moon shape thin line up to half of eye fountain and eyelash bottoms. Then, a sharp and retained plum eyeshadow transition up the end of the eye behind lame. The lower lash area around the eye is fixed by applying a thin plum eyeliner.
Undisciplined eyebrows and eyelashes thin clown free. Natural toned blush and lipstick completed half months smoky eyes.